Using MozCC with Songbird
As of version 2.4.2, MozCC provides some basic support for license detection in Songbird. Songbird is "a desktop Web player, a digital jukebox and Web browser mash-up." In other words, a darn cool music player, built on Gecko. When you install MozCC in Songbird, you get license icons right in the playlist view, for each track.
Installing
MozCC requires Songbird 0.2.5 or later; a nightly build from 14 February 2007 or later should work, too.
Run Songbird and browse to MozCC's page at addons.songbirdnest.com: http://addons.songbirdnest.com/extensions/detail/27.
Click the Install button on the page,
Then click the Install button on the confirmation dialog that pops up.
Finally, click Restart Songbird to complete the installation process.
It's just that easy.
License Display
Once you've installed MozCC in Songbird, visit a page with music and metadata, like the Latest Remixes at ccMixter.org. If you decide to copy a track to your library, that license information travels with it.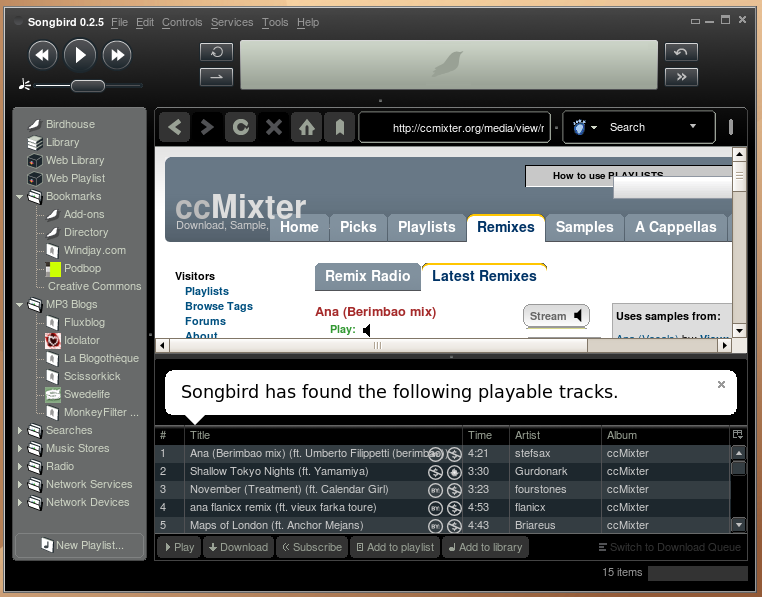 Getting Help
Need help? Email software@creativecommons.org or the cc-devel mailing list.
Limitations and Issues
MozCC only looks at metadata in the web page, not embedded in the audio file itself. So some tracks may indeed be licensed, but if the page doesn't include metadata about the track, that information won't show up.