Marking Video

Video should contain a video bumper — a notice at the beginning or end of your video that states the author(s) and CC license. If you make your own video bumper, be sure to include the CC license icons (including the CC logo) and the full URL to the license. The CC icons may be replaced with the name of the license or the abbreviation. A copyright notice stating the author(s), date, and copyright should also be included.
Another way to mark video is with a CC marker – a graphic or line of text stating the license – next to the file (on a webpage) or in the liner notes (for physical media). For more information about CC markers, see Marking Image.
Create
Video Bumpers
Get a license from http://creativecommons.org/license
Use the normal CC license button icons from: http://creativecommons.org/presskit
Include the full URI to the license
Include a copyright statement with the date and author(s).

Can either go on bumper, or have a slide of its own.
May be followed by "Some Rights Reserved"
Examples:

© 2007, Name
© 2007, Name. Some Rights Reserved.

Optional : Match the background color to the color of the human deed. color palette
Check out user submitted bumpers for examples & to contribute your own bumper.
Graphic Markers
See Marking Image.
Download
Video Bumpers
"ViewShareRemix is a project to support open movies, by creating standard identifying marks and supporting visuals. Our initial aim is to create a pro-sharing equivalent for filmmakers to the anti-piracy notices and videos seen on traditional video content. We see it as a complement to the Creative Commons-licenses."
Graphic Markers
Examples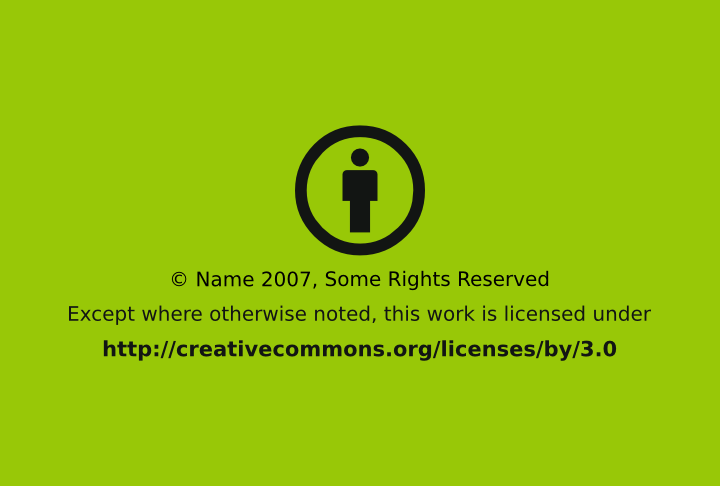 Internal (Technical)