Birthday Party 2008 Berlin
[[Venue:=newthinking store|]] [[Address:=Tucholskystrasse 48; Mitte|]] [[City:=Berlin|]] {{#if:|[[State:={{{state}}}|]]|}} {{#if:10117|[[Postal Code:=10117|]]|}} [[Country:=Germany|]] [[Date:=December 17, 2008 8:00:00 PM UTC|]]
Creative Commons was born December 2002, and to celebrate we're inviting the CC Community worldwide to join the party!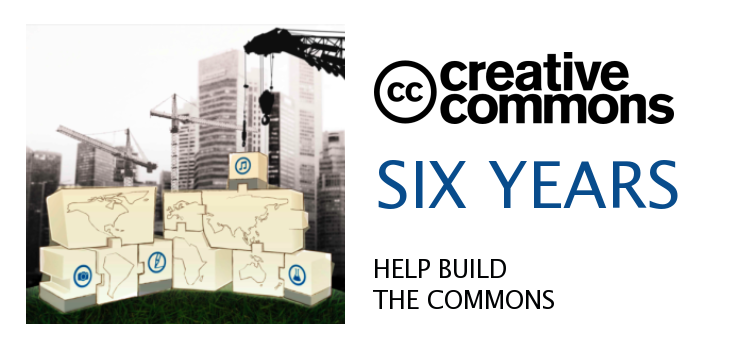 Content Sprint Template: Use this template to tell us about your CC project and help document case studies during our Content Sprint.
Deutsch
Programm
Sei dabei,wenn wir einen Abend voller CC-inspirierter Kunst, Kultur,Präsentationen, Musik, Technologie und mehr feiern! Der Eintritt ist frei!
Content Sprint: kennst du ein erfolgreiches oder innovatives CC Projekt? Wir organisieren ein "Content Sprint", um diese Geschichten zu dokumentieren. Die Ergebnisse werden in den CC Case Studies veröffentlicht. Bring bitte Info über das Projekt und/oder dein Laptop mit!
Preis: T-shirt von Goopymart
Dez. 17 um 2000 Uhr in newthinking store, Berlin Mitte.
English
Program
Join us for an evening of CC-inspired art, presentations, music, technology, and more! [Free Entry]
Content Sprint: know of a successful or innovative CC project? We're organizing a CC Content Sprint to document the stories. Results will be published in the CC Case Studies. Bring some info about the project and/or your laptop to join in!
Prize: T-shirt from Goopymart
Location
newthinking store: Tucholskystrasse 48; Berlin Mitte
Dec. 17 at 8:00pm in the newthinking store, Berlin Mitte.
Organizers