Affiliate Reporting/2010
CC Affiliate Network -- 2010 Report
Information about our Affiliate Network
This Report contains information submitted by official CC affiliates in response to a 2010 year-end survey. This is the second time that CC-HQ has requested information about affiliates and their activities. The first survey was conducted in early Spring 2010, and reports generated on a voluntary basis. This resulted in a low response rate. The survey used to compile this Report solicited responses from affiliates in 75 jurisdictions. CC received responses from affiliates in 52 of those jurisdictions.
Annual reporting by CC affiliates is required under the new affiliate network structure. Future surveys and resulting reports will contain additional, more detailed information, of use to CC as well as the affiliates.[1] For reference, from early 2010 to the first quarter of 2011, seven new Affiliate teams are expected to join the network.
Affiliate Supplied Information
Data note: for most questions, affiliates were given the ability to select more than one answer; therefore, totals exceed number of jurisdictions reporting (i.e., 52). A list of respondents is included below.
Team Information
Team size varies from one to over 50 individuals. Total, CC has more than 400 volunteers around the world participating on official CC affiliate teams. Many of the teams consist of about 10 people.
Focus Areas
In 2010, affiliate teams focused most on outreach and promotion of Creative Commons. Nearly every team did some sort of outreach or promotion during 2010.
Key Activities
The most common activities conducted by affiliates in 2010 were consulting with prospective license users and organizing conference and salon events. Affiliates also spent a large amount of time working on license porting and translation activities.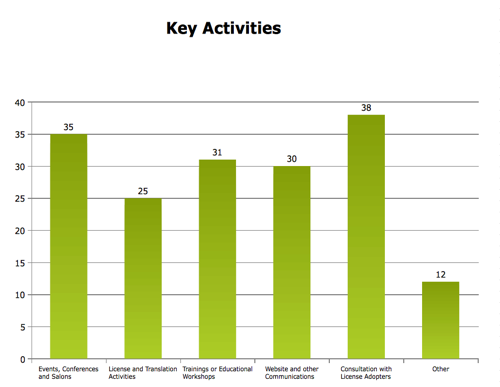 Funding
Many teams are supported solely by their respective affiliate institutions. For those that do receive outside funding, law firms, for-profit corporations, and revenue gained from workshops provide the main sources of revenue.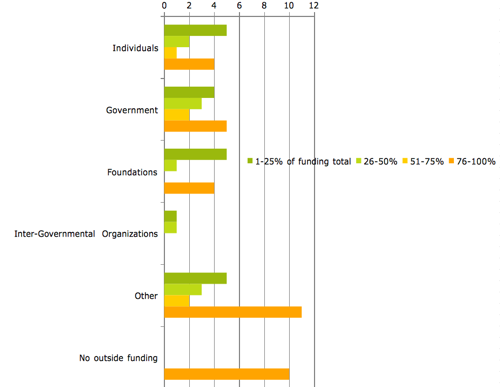 Challenges
Affiliate teams not only shared their most common challenges, but also ideas for overcoming these challenges. In addition to the common challenges identified below, challenges in the Other category include confusion and lack of clarity around license terms and license proliferation by others. Proposed solutions suggested improving the FAQ on the CC website and increasingly emphasizing license compatibility.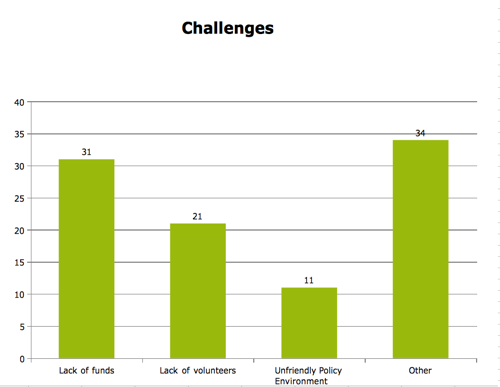 Ideas for Improving/Addressing Challenges
In General (largely unedited):
Increase information about CC in mainstream media
Find people who want to advocate for CC and let them do it their way
Show that culture and the culture of sharing is vital for the development, and for the peace and balance, of any society
Change focus of CC HQ from a legalist mindset towards more practical issues
Focus on problems within free culture, instead of noncritical hype and idolization of CC and the few well known use cases
Think about how to improve copyright law, not just take it as a given
Act as a global movement
More media coverage
Less bureaucracy, especially the porting process
Lack of funds
Better fundraising strategy, expected to come from the new affiliate structure
Fundraising events
Applications for funds
Support from CC for funding proposals, including recommendations of potential donors
CC HQ should provide funding each year to teams
Cooperation with major CC adopters and sympathizers
Seek sponsors
Lack of Volunteers
Begin dedicated educational program training of advocates for openness
Find more people who can contribute in new ways
Hold workshops to increase awareness of CC and find new volunteers there
Recruit at lectures and through fliers
Use student policy fellows
Provide more education about CC to the public, especially young lawyers, professionals and researchers
Recruit affiliate marketing volunteers
Unfriendly Policy Environment
Promote projects between European countries
Having CC be more active in the Open Access Movement
Don't be religious about open licensing
Find hidden shortcuts into position papers
Change the laws around collecting societies
Adoption
Highlights of New Major Adopters
Europe
Prime Minister of Greece
Orange (mobilcom) Foundation in Poland
President of Portugal
Dutch government
Ministry of Telecommunications and Information Society of Republic of Serbia
Israel Ministry of Foreign Affairs
Georgia Ministry of Education and Science
Asia
Taiwan Public Television Service Foundation
New Zealand government
Macedonia Center for Research and Policy Making
Australian Treasury
Middle East
Al-Akhbar Lebanese newspaper
South America
The Canaima Project in Venezuela (gives out laptops already loaded with CC-licensed educational resources)
University of Puerto Rico
Brazil Ministry of Justice
New Major Adopters by Sector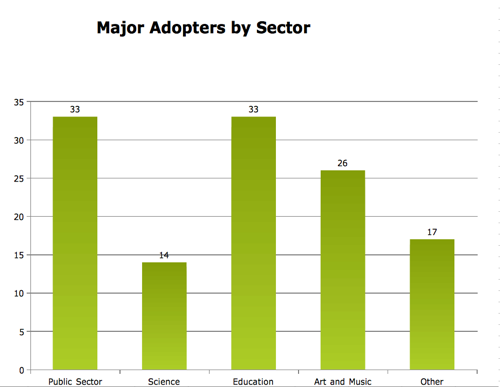 Other Comments from the Affiliates (unedited)
Very excited about the upcoming global meeting
Would like clarification on incorporating as a non-profit while still respecting trademark policy
Would like more reminders to report progress
Nordic country CC teams are working on an international book project to highlight business models in free culture
Would like an increase in conversations, especially across regions
Stop referring to the Affiliate Teams as jurisdictions and stop asking for reports
Lots of books and music are being released under CC licenses in Lebanon
Include sui generis rights in the licenses
CC New Zealand has found the establishment of a special CC panel with members form a range of sectors very helpful
Develop a clear long-term funding model for CC and its affiliates, possibly through the use of Richard Florida's Creative Class concept
CC Australia ran a successful Creative Commons Roadshow that toured Australia and provided detailed information about CC licenses
Respondents
The 2010 Affiliate Report is based on completed surveys from the following jurisdictions. Thanks to everyone who submitted a report!
Armenia
Australia
Azerbaijan
Brazil
Bulgaria
Chile
China Mainland
Costa Rica
Croatia
Czech Republic
Denmark
Ecuador
Egypt
Finland
Finland
France
Georgia
Germany
Greece
Guatemala
Hong Kong S.A.R.
Hungary
Iceland
Indonesia
Israel
Italy
Japan
Lebanon
Macedonia
Netherlands
New Zealand
Norway
Peru
Poland
Portugal
Puerto Rico
Romania
Serbia
Singapore
Slovakia
Slovenia
South Korea
Spain
Sweden
Switerzland
Syria
Taiwan
Thailand
UK
Ukraine
Venezuela
---
↑ The 2010 Annual Survey was abbreviated due to work product commitments of affiliates necessary to complete the affiliate enhancement process. These other activities included the preparation of roadmaps for activities in 2011, and reviewing and completing new memoranda of understandings. Staff anticipates the restructuring to be completed in full by late January//early February 2011.