Translating with Pootle/Admins: managing suggestions and previewing
Video
{{#gadget: pootle_3}}
Text
There are a few things that only administrators of the language can do: accepting suggestions as translations, and committing translations to see how they look at staging.creativecommons.org.
Accepting suggestions
Handling suggestions in Pootle is very easy. If on in the translation screen you see a message reading, View Suggestions, you can click it to show the suggestions that have been made as well as the name of the user who made the suggestion.

If you want to act on those suggestions, click the Edit link at the end of the row. This will bring you to the full edit screen with that message selected.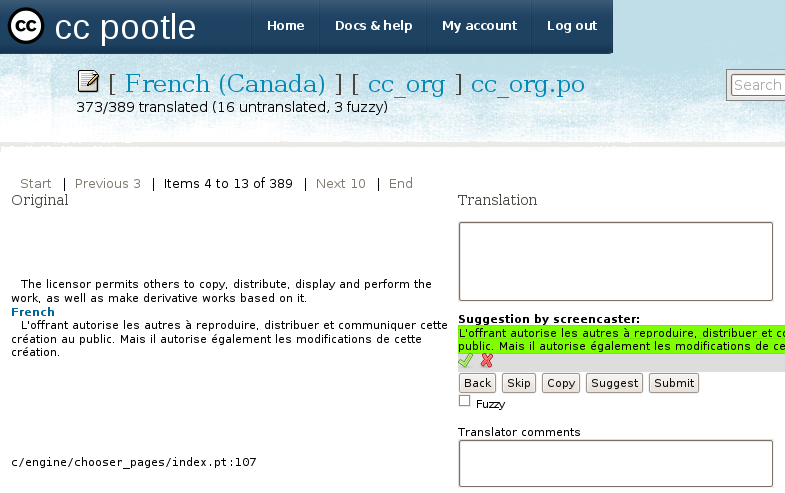 You can click on the green check-mark or the red X; they will accept or reject the suggestion respectively. If you want to accept a modified version of the suggestion, you can click the green check-mark to accept the suggestion and then edit it in the translation field. Be sure to hit submit afterwards.
Creative Commons' "Staging" website
We run an experimental clone of the Creative Commons website at http://staging.creativecommons.org/. The cc_org translation catalog is made available in near-real-time in two places.
For both of these, appending ?lang=no lets you see the Norwegian translation; that should work for any short language code.
Committing translations
Language editors can use the commit facility in Pootle to permanently store their changes. Each commit is a permanent snapshot of the PO file. In addition, we only update staging.creativecommons.org once you commit.
As a result, the commit feature is very useful as as "preview" feature. To use it, you must have the commit privilege to a language in Pootle.
Start at the message catalogs page, as seen below: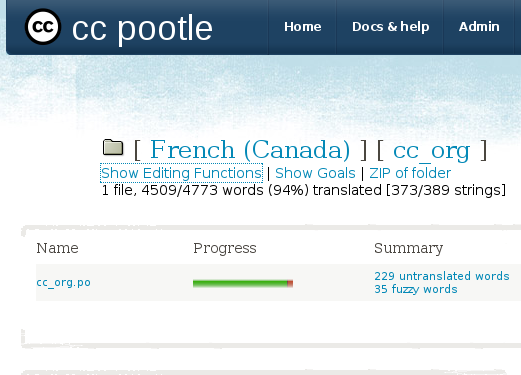 Follow the link to 'Show Editing Functions, and you arrive at a page like this: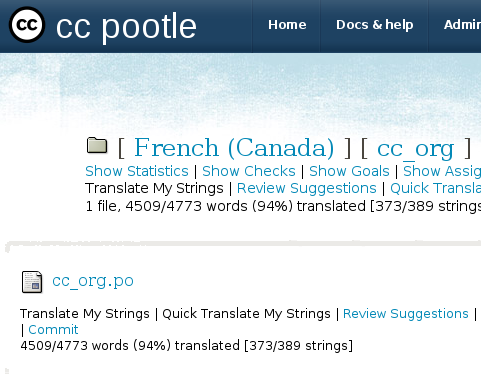 Click on "Commit," and after a somewhat substantial wait, you will see a message indicating that some files were committed. (If there are no changes, then Pootle will not actually perform a commit.) You can then expect that staging.creativecommons.org is up-to-date with respect to the language you are working on.
Pushing to the live site
WHen you are happy with your changes as they appear on staging.creativecommons.org, email webmaster@creativecommons.org to request that we update the main creativecommons.org website with your translations. You should expect a response saying it's done within a couple of work days at the longest.
Granting permissions
As a language administrator, you can grant privileges to other translators who have shown their ability to provide good-quality text. To do that, log in and click go to your Account page. From there, you will see an "Administrate" link for a project and language. Click this link, and you can select the rights you want each user to have.
Keep in mind that the user who you want to assign permissions to has to have already added this language in his or her profile page.