Title: Thicker Than Blood
A science fiction thriller set in the near future.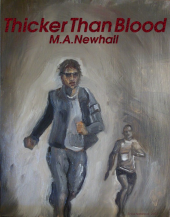 Hero By Choice.
The flip of a switch gives Joe, an ordinary mechanic, superhuman abilities. He discovers his new powers after his aunt saves his life with restricted nanites. When the corporation sanctioned by the military to control all nanotechnology discovers his secret, everyone he knows is thrust into a world of deception and treason. Can Joe give the people of the world life-saving superhuman powers, or will the attempt claim his life.