JL Bryan
ABOUT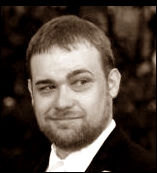 J.L. Bryan studied English literature at the University of Georgia and at Oxford. He also studied screenwriting at UCLA. He lives in Atlanta with his wife Christina.
URL: http://www.jlbryanbooks.com
BOOKS
J.L. Bryan has released one novel, Dominion, under Creative Commons license. He describes Dominion as "a study of what a near-future fascist America might look like, kind of a 1984 for 21st century America. Inspired by the Bush administration, naturally."
The book can be downloaded free at his website. His two other books are also available at his site, but are not currently CC-licensed.