Free to Learn Guide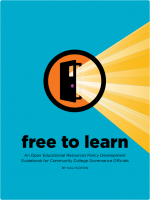 Download
PDF
Free to Learn Guide
by Hal Plotkin
Abstract: Open Educational Resources (OER) offer higher education governance leaders a cost-efficient method of improving the quality of teaching and learning while at the same time reducing costs imposed on students related to the purchase of expensive commercial textbooks and learning materials. Leading scholars around the world are already participating in the OER movement even without support from most higher education institutions, including community colleges. Higher education governance officials, particularly boards of trustees and senior academic governance leaders, have a tremendous opportunity to harness the advantages of OER for their institutions.
Except where otherwise noted, content of this document is licensed under a Creative Commons Attribution 3.0 License. Free to Learn was produced as a result of a grant from The William and Flora Hewlett Foundation.
Disclaimer: The text in the pages below may differ from the published version of the document above.
Table of Contents