CCBus
This is a draft project proposal and is not (yet) officially endorsed nor organized by Creative Commons. It is an initiative by CC Guatemala and other community members.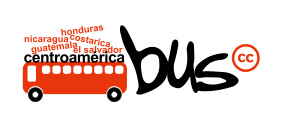 CC Guatemala, led by Renata Avila, together with community members Teresa Sempere García and Michelle Thorne, would like to organize a CC Bus tour through Central America. The plan is to rent one of the region's ubiquitous mini vans, pack it full with CC enthusiasts and open web folks, and traverse the region for two weeks, holding workshops, salons, parties, and whatever event format necessary to connect the lively Free Culture scene in Central America. On the itinerary are Guatemala, Nicaragua, Costa Rica, Honduras, and El Salvador. You can see our route on Google Maps and a slideshow with further information.
Itinerary
Add your ideas and suggestions!
Guatemala
Antigua Guatemala - CENTRO DE FORMACIÓN DE LA COOPERACIÓN ESPAÑOLA Antiguo Convento de la Compañía de Jesús. 6ª Avda. Norte. entre 3ª y 4ª calle LA ANTIGUA - GUATEMALA
Nicaragua
Managua - OFICINA TÉCNICA DE COOPERACIÓN Plaza Bolonia, 2 1/2 Cuadra Abajo, Frente a a la Embajada de Dinamarca MANAGUA - NICARAGUA
Costa Rica
Honduras
El Salvador
Supporters
Add your ideas for local partners, volunteers, venues, and sponsors. We're looking for Free Culture advocates, commoners, artists, Wikipedians, Free Software developers, librarians, teachers, open web enthusiasts, anyone really who would like to get involved.