Birthday Party and Launch Event 2007 Belgrade
[[Venue:=Magacin Cultural Center, Club Andergraund|]] [[Address:={{{address}}}|]] [[City:=Belgrade|]] {{#if:|[[State:={{{state}}}|]]|}} {{#if:|[[Postal Code:={{{postal}}}|]]|}} [[Country:=Serbia|]] [[Date:=December 15, 2007 07:00:00 PM UTC|]]
Creative Commons was born December 2002, and to celebrate we're inviting the CC Community worldwide to join the party!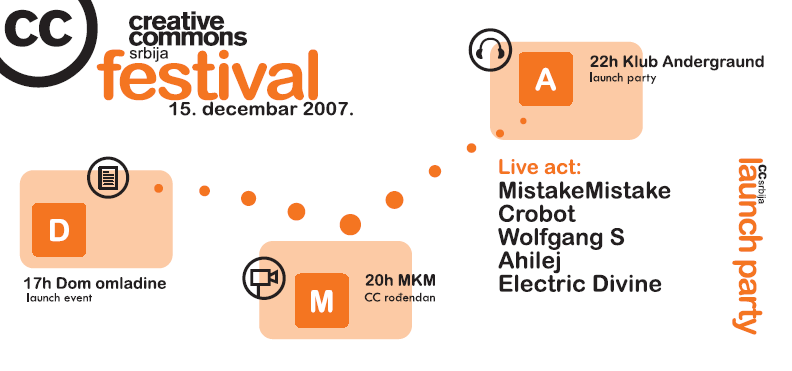 Report from the Event: We had CC birthday cake, which you can see on flickr and also a new internet site:
You can also check out some interviews published in the media about CC (Serbian/Croatian)
---
Dear friends,
with pleasure, we announce that @15th of December we are going to have the national jurisdiction launch of Creative Commons licences. Hope this makes a good birthday present :-)
We would love you to join us and take part in the different events to be organized @15th of December. Welcome!
---
Saturday, 15th of December:
>>> 17:00 Dom omladine, the launch of the licences
>>> 20:00 Cultural center Magacin, the 5th CC birthday party & presentation of Ubuntu 7.10
>>> 22:00 Club Andergraund, CC LIVE! Party
       MistakeMistake ::: Crobot ::: Wolfgang S ::: Ah, Ahilej ::: Electric Divine

---
17:00 Dom omladine Belgrade
Launch event
The looooong awaited launch of Creative Commons licences
http://creativecommons.org/international/rs/
Speakers:
During the talks and presentations, the video messages of the members of the board of Creative Commons International will be shown.
20:00 MKM (Cultural center Magacin)
As a part of big Creative Commons 5th birthday party, we will join the video streams organized by local Creative Commons jurisdictions worldwide.
Music: CC DJ Edi
Event in collaboration with LoCo https://wiki.ubuntu.com/SerbianTeam, http://.ubuntu-rs.org
The promotion of Linux Ubuntu 7.10 http://sr.wikipedia.org/sr-el/Ubuntu

22:00 Club Andergraund
Launch party CC LIVE!
Live act:
MistakeMistake
Crobot
Wolfgang S
Ah, Ahilej
Electric Divine

Greetings!
CC Srbija team Nena Antic, Vladan, Edi Bon, Milica Gudovic, Marko Djordjevic and Vlidi
---