Publish/Images/Flickr
How to publish on Flickr
There are many ways to CC license your content in Flickr. The three main ways are 1) setting a default license for your account to apply the license to all new uploads, 2) batch-licensing all your previous uploads, or 3) selectively licensing some of your photos.
Setting a default license
To set a default CC license for your content, follow these directions:
1. Go to Your account and click on the Privacy and Permissions tab.

2. Scroll down to the Defaults for new uploads section and look for the following line (you may not already have a default license, but the example below does):

3. Click Edit and you will be taken to a license chooser to select a new default license for new uploads.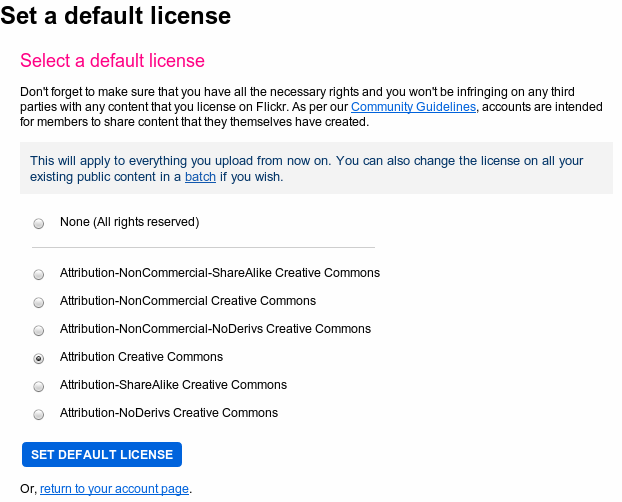 Batch licensing
After you've set a default license, you might have photos that were uploaded before you set a default license. You can change the licensing status of those images in multiple ways.
On the same page you used to set a default license, there is a link to a page where you also have the option to Batch edit the license for all of your previous uploads. So here you can, for example, CC license all of your previously uploaded photos before you had set a default license.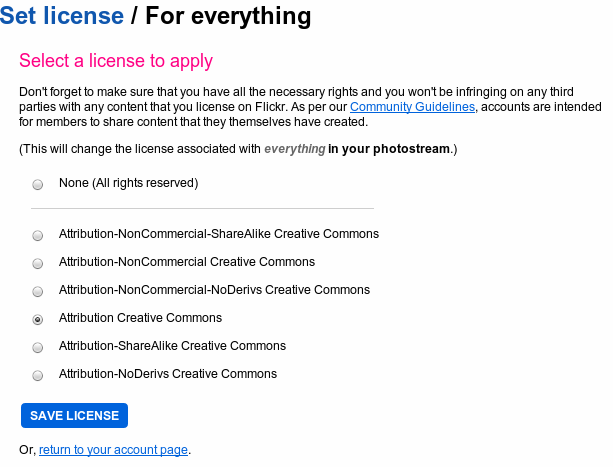 Otherwise, you can select individual sets of photos to change the licensing status of through the Organize view. On this page, you can drag photos into the screen, select Permissions and then select Change licensing.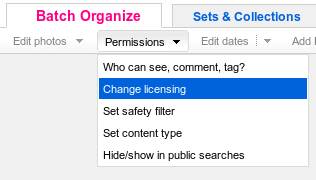 You should be presented with a license chooser: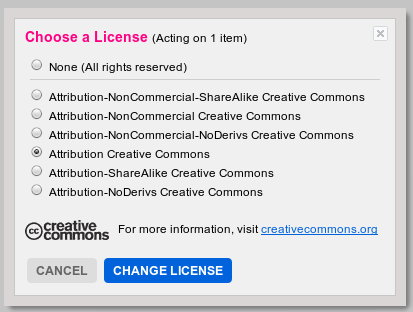 You can also batch edit the licensing status of sets or collections. To do this, open the set or collection in the Organize view and in the Batch edit menu, select Change licensing: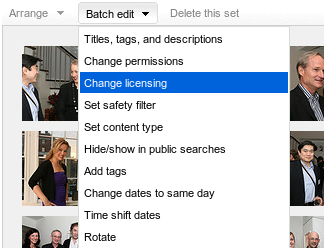 Flickr resources