Please note: An account is needed only to edit the CC Wiki. If you need an account, please email info at creativecommons org and we'll make you an account.
Deskbar-Applet CC Search
From CC Wiki

Jaime Frutos Morales has developed a handler for Deskbar-Applet for the Gnome desktop which searches for CC licensed content. It can search webs using Google and Yahoo and images using Flickr. The idea comes from the CC Search web.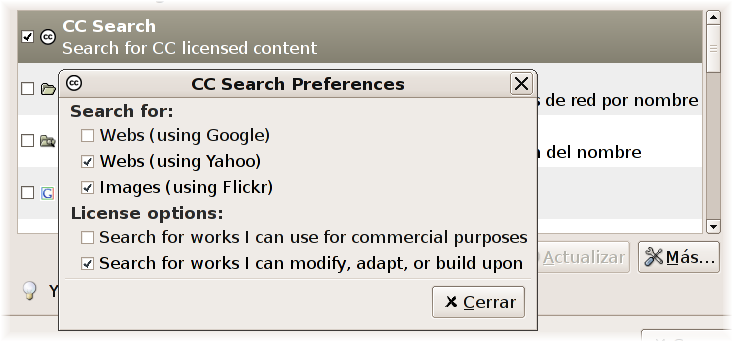 Installation
Untar the downloaded file: tar xvfz cc-search-0.2.tar.gz
Copy the uncompressed files to your deskbar-applet handlers directory: cp cc-search.* cc.png $HOME/.gnome2/deskbar-applet/handlers
Restart deskbar-applet
Go to the "Preferences" menu and load the handlers by clicking on the checkbox next to them
You can modify your preferences clicking on the "More..." button
Click the "Close" button and start searching for CC licensed content
References