Difference between revisions of "San Francisco Salon"
Line 1:
Line 1:
 

[[Image:Salon-sf.png|right]]

 

[[Image:Salon-sf.png|right]]

−

 
−

'''Watch the event [http://www.ustream.tv/channel/creative-commons-salon live on Ustream],  at 6:30pm PST!'''

 
 
 
 
 
---
Revision as of 19:49, 4 January 2011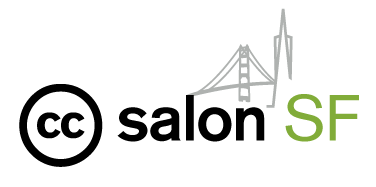 Creative Commons Salon: What it Means to Be Open in a Data-Driven World
Our next salon will be held at LinkedIn Headquarters in Mountain View and will feature speakers from LinkedIn, 3taps, and Internet Archive to discuss the increasingly important topic of data as it relates to sharing, privacy, and innovation in the 21st century. Our speakers will each spend a few minutes sharing their personal work and experience with online data, and we will then transition into a panel discussion moderated by Tim O'Reilly, founder of Tim O'Reilly, to further explore the topic.
CC Salons are informal events that bring people together around 21st century issues such as digital copyright, creativity, and sharing online. We typically have an audience of 30-50 professionals from many different disciplines, and the theme varies from education to science to media, and more. Salons are broadcast live and available for viewing after the event.
Our speakers for the evening include:
Peter Brantley is the Director of the BookServer Project at the Internet Archive, a San Francisco-based not for profit library. He writes widely on the transformations in libraries and publishing, and most recently hosted the Books in Browsers conference in San Francisco. Peter has significant experience with academic research libraries and digital library development programs, and was previously the Executive Director of the Digital Library Federation. He is also the co-founder of the Open Book Alliance.
Karen Gifford leads the business development efforts at 3taps, a platform for exchanges of all kinds. 3taps searches in real time for postings – transaction-specific information about items offered for exchange, such as a job offer or a watch for sale – across a universe that includes the Internet and Twitter. Prior to joining 3taps, Karen worked as a Senior Director at Promontory Financial Group and as Counsel and Officer at the Federal Reserve Bank of New York.  
DJ Patil, Chief Scientist and leader for Analytics and Data Teams at the LinkedIn Corporation. He is responsible for all analytics projects including reporting, web analytics, as well as products on the site that leverage LinkedIn's unique data set. Some of these products include, People You May Know, Who's Viewed My Profile, Talent Match, and the other recommendation engines.

RSVP on Facebook
Date & Time
Tuesday, January 11, 2011
6:00- 8:00 PM (presentations start at 6:30)
Refreshments provided
Plenty of parking available
LinkedIn
2029 Stierlin Court, Mountain View, CA 94043
Google Map/Directions
Salon in San Francisco, CA, USA
2010/11/15