Guatemala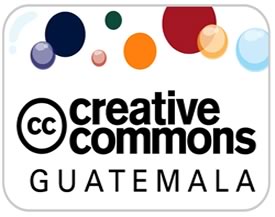 Visit the jurisdiction's website.
The Creative Commons Guatemala license suite is available in the following version. License your work under these licenses, or choose the international licenses. More info.
Many thanks to all who contributed to the localization of the license suite.
Creative Commons is working with the New Media Center at the Universidad Francisco Marroquin to create jurisdiction-specific licenses for Guatemala from the "unported" Creative Commons licenses.
CC Guatemala List
Project Lead: Renata Avila, LL.M.
More about the New Media Center at the Universidad Francisco Marroquin
Conceived in 2001, the New Media department at UFM was created to assist faculty members, researchers, and students in the use, creation, and management of digital resources that complement their academic work. And, due to the improvements in IT infrastructure and user expertise as well as advances in Internet enabled teaching, it became clear that the role of the New Media department would be twofold. Firstly, the department preserves and makes the university's unique collection of VHS and ¾" films available through digitization and conversion to Internet compatible formats to increase access and use. Secondly, the New Media department has digitized and streamed classes, conferences and lectures held at UFM over the Internet in order to preserve this locally produced content, but also to support university distance learning. We actively assist departments and professors who wish to incorporate digital media into their courses by teaching various short courses in video and multimedia production. Additionally, we include many technical and academic value added features to the digital video, such as indexes,slides, and lecture notes. These developments permit greater faculty and student participation in the creation and use of teaching resources and mean that digital video is becoming an important tool in the provision of course material at UFM.
For more information, please visit http://newmedia.ufm.edu/.
ABOUT US:
Universidad Francisco Marroquin is a private university in Guatemala, it was founded 1971. The mission of Universidad Francisco Marroquín is to teach and disseminate the ethical, legal and economic principles of a society of free and responsible persons.
A Creative Commons World: Free to Choose, to Create, to Innovate, to Learn, to Imagine Our Chapter was born 2008 we had de honor to host Jimmy Wales. There is a strong link between the University's philosophy and the idea of Creative Commons. Wales mentioned the fact that in order to understand Wikipedia one had to understand the ideas of Friedrich August von Hayek.
To watch the interview
ACTIVITIES:
On February 25th, 2010, we participated in a live webcast of a talk by Lawrence Lessig. Wireside Chat with Lawrence Lessig.
Participation on FILGUA 2010. Guatemala's biggest book fair and one of the most important book fairs in Central America was held in Parque La Industria in Guatemala City. We decided to do something creative and therefore the best way to introduce people to creative commons and technology and the way these two relate to books was an unconference We thought it would be a nice approach to discuss "the future of books, electronic book" (check the event), and that's how we called the event. It was really interesting because the audience was diverse, by means of age and careers, the age range was from 20's to 60's and there were writers, scholars, designers, bloggers and between others. photos more info
WHAT'S NEXT:
During the summer of 2011 together with CC Costa Rica and other partners we will promote the licenses across the region.
The project consists on reviving Joaquin Orellana (a worldwide famous guatemalan artist who unfortunately not known in his own country), he agreed on licencing his pieces with us, we contacted dancers (Arteproyecto) and a rising DJ (Mariano Santolino) so that they derive something out of Joaquin Orellana's work. We plan to tape all the process to exemplify how easy it would be to eliminate the intermediaries (us by contacting them) just by licencing their works, this will be presented in a shopping mall and other public places we have not concreted yet. So we have all the contacts and the process will start next year.