Global Summit 2013/Logistics
Summit venue
The Global Summit will take place at the Centro Cultural General San Martín, located on Sarmiento 1551, between Paraná and Montevideo streets, in the City of Buenos Aires. The Center is located in the heart of the city and it is a walking distance from the hotel.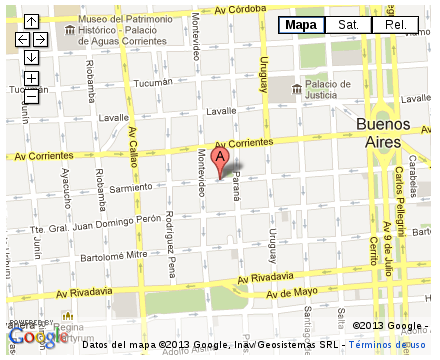 More information about the Summit venue, and venues for other Summit events, can be found on the Venues page.
Accommodation
CC staff and sponsored attendees to the Summit will be staying at the following hotel, which is a 10 minute walk from the venue:
HIPOLITO YRIGOYEN 1592
CAPITAL FEDERAL
1089 - BUENOS AIRES
ARGENTINA
TEL : (+54)11/ 53005555
FAX : (+54)11/ 53005566
GENERAL INFORMATION: H3251@ACCOR.COM
CONTACT ADDRESS FOR CC SUMMIT: Andrea Gago, h3251-sl@accor.com. When writing to her, please, specifically say that you are within the CC Global Summit group, even if CC is not funding your accommodation.
GPS: S 34° 36' 40.01 W 58° 23' 20.89
The venue is located in the center of Buenos Aires, and there are many hotels in the immediate vicinity available through hotel booking sites such as Expedia, hotel.com and booking.com.
General information about Buenos Aires
Getting to and from the airport
You can check the information available in WikiVoyage.
We have put together a google document for those people wanting to share rides to and from the airport. There are separate sheets for arrivals and departures. It is your responsibility to arrange a meet up time and place. Please only add your details here if you are willing to be contacted directly by others on the list.
By bus - recommended
We strongly recommend you to hire the service of Manuel Tienda León. If you arrive to Ezeiza international airport, you can take the service from there that will leave you in Madero Av. and San Martín, where you will find Plaza San Martín. They also run a service from Jorge Newbery. This is the distance between the place you are going to be left from Manuel Tienda León Service and the hotel: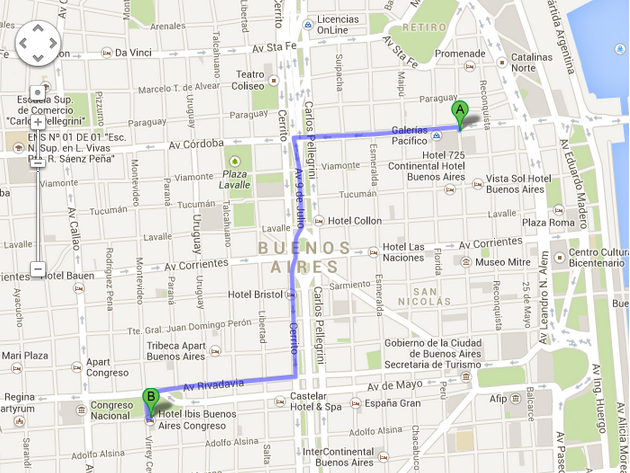 From there, you have different options to the hotel.
By subway
Take the subway, line C, in Retiro station (terminal station), until Diagonal Norte station, where you have two different lines to make combination: line B and line D. There you'll have to take line B (Carlos Pellegrini station) in direction to Los Incas, until Uruguay or Callao (they are at the same distance from the hotel). You can also walk from Diagonal Norte to the hotel, it's a nice walk through Corrientes Av. and Callao Av.
By taxi
You can take a cab on the intersection of Madero Av. and San Martín, and it should cost you around 30-40 argentinean pesos. In Argentina the tariff is fixed by an automatic system that you can see in front of the passenger's seat.
Getting around Buenos Aires
Subway maps
Bus routes and maps
Bus and subway tickets
Public transport in Buenos Aires does have a transit card named SUBE - but in order to get it you may need to have a worker ID provided by the government. you can find a map of places to purchase SUBE here.
So the best way to purchase tickets is to simply pay cash. You can pay on the bus with coins. The cheapest ticket is 1.50 and it goes up to 2.25 pesos depending on the distance you travel.
If you prefer the subway, you can buy passes separately, each 2.50; you can also buy 5 passes or 10 in the same ticket.
Record shops
One block away from the conference venue, Silbando Discos Inside Centro Cultural de la Cooperacion, Corrientes 1543 Selection from Argentine and International independant music
Food, drink, entertainment in Buenos Aires
Visa requirements
Here you will find a detailed list of countries that need Visa to get into Argentina. However, you should confirm this information on the website of the Minister of Interior and Transport of Argentina. If you determine you do need a visa, you may request a visa support letter from Creative Commons and the conference organisers here.
| Country | Diplomatic or service passport | Standard or regular passport |
| --- | --- | --- |
| Australia | Yes | No |
| Austria | No | No |
| Azerbaijan | No | Yes |
| Belgium | No | No |
| Brazil | No | No |
| Bulgaria | No | No |
| Canada | Yes | No |
| Chile | No | No |
| China Mainland | No | Yes |
| Colombia | No | No |
| Costa Rica | No | No |
| Croatia | No | No |
| Cszech Republic | No | No |
| Denmark | No | No |
| Ecuador | No | No |
| Egypt | No | Yes |
| Estonia | No | No |
| Finland | No | No |
| France | No | No |
| Georgia | Yes | Yes |
| Germany | No | No |
| Greece | No | No |
| Guatemala | No | No |
| Hong Kong | No | No |
| Hungary | No | No |
| Iceland | No | No |
| Indonesia | No | Yes |
| Ireland | Yes | No |
| Israel | No | No |
| Italy | No | No |
| Japan | No | No |
| Kenya | Yes | Yes |
| Lebanon | Yes | Yes |
| Lithuania | No | No |
| Luxembourg | No | No |
| Macau | No | No |
| Macedonia | Yes | No |
| Malaysia | No | No |
| Mexico | No | No |
| Netherlands | No | No |
| New Zealand | No | No |
| Nigeria | Yes | Yes |
| Norway | No | No |
| Paraguay | No | No |
| Peru | No | No |
| Philippines | No | Yes |
| Poland | No | No |
| Portugal | No | No |
| Puerto Rico | Yes | No |
| Qatar | Yes | Yes |
| Romania | No | No |
| Russia | No | No |
| Rwanda | Yes | Yes |
| Serbia | No | No |
| Singapore | No | No |
| Slovakia | No | No |
| Slovenia | No | No |
| South Africa | No | No |
| South Korea | No | No |
| Spain | No | No |
| Sweden | No | No |
| Switzerland | No | No |
| Syria | Yes | Yes |
| Taiwan | Yes | Yes |
| Tanzania | Yes | Yes |
| Thailand | No | No |
| UK: England and Wales | No | No |
| UK: Scotland | No | No |
| Uganda | Yes | Yes |
| Uruguay | No | No |
| Ukraine | No | No |
| Venezuela | No | No |
| Vietnam | No | Yes |