Finding of CC licensed Content within Desktop
Integrate finding of CC licensed content directly within the Desktop (think Gnome or KDE integration).
Extend the CC licensing extractor for Spotlight to support multiple file formats and polish it to release quality. Issues which must be addressed include extractor chaining and packaging.
Work on Gnome Integration by sending patches or by completing the list of programs which need CC integration.
Implementations
Jaime Frutos Morales has created Deskbar-Applet CC Search, an extension for Deskbar Applet for the Gnome Desktop to search for CC licensed content.
Please add your implementation here :)
Examples
Please add your example, screenshot, mockup, etc here :)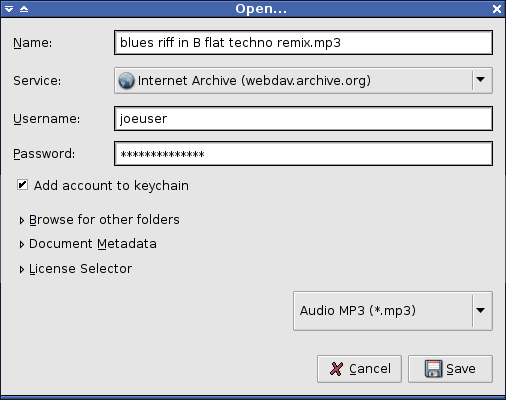 Open Dialog: This is an example Open (find) dialog that could use one's local hard drive or a service (on-line, etc).
Save Dialog + Metadata: This shows metadata save dialogs. How could one use these fields to help find content?
Save Dialog + Licensing: This shows licensing dialogs for saving content. How could this be used to help find content on a desktop, web, etc?
NOTE: The GIMP XCF mockup files used to generate these flattened PNGs are availabe here: http://rejon.org/freelance/creativecommons/img/mockups/
TODO
Please add your TODO here :)