Cchost/concepts/Query Engine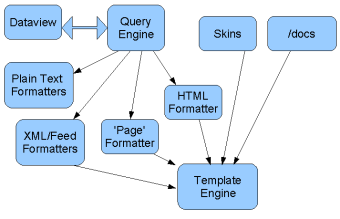 All user generated or uploaded content and all topics are displayed in ccHost using the Query Engine and it's API. That means any and all features associated with content display is built on top of the Query API.
A detailed reference guide for the Query API can be found at every ccHost installation at <your_installation_root>/query-api. Here is the link via http://ccmixter.org/query-api
The graphic above shows a high level overview of how other components and data interact with the Query API.
The best way to understand to most common case usages of the query is to study the query templates walk-through. For more advanced features make see the Ultimate Template tutorial.