CC Salon March PR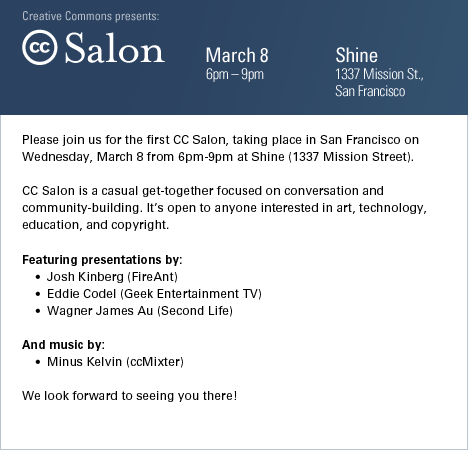 Please join us for the first CC Salon, taking place in San Francisco on Wednesday, March 8 from 6pm-9pm at Shine. CC Salon is a casual get-together focused on conversation and community-building. It's open to anyone interested in art, technology, education, and copyright. We look forward to seeing you there!

CC Salon – San Francisco
Wednesday, March 8
6pm-9pm
Shine (http://shinesf.com/)
1337 Mission Street (between 9th and 10th), San Francisco

Featuring presentations by:
Josh Kinberg; FireAnt (http://fireant.tv/)
Eddie Codel; Geek Entertainment TV (http://geekentertainment.tv/)
Wagner James Au; Second Life (http://secondlife.com/)
And music by:
Minus Kelvin; ccMixter (http://ccmixter.org/)

Blog entry: http://creativecommons.org/weblog/entry/5804
Visit our wiki (http://wiki.creativecommons.org/Salon) for updates.