Please note: An account is needed only to edit the CC Wiki. If you need an account, please email info at creativecommons org and we'll make you an account.
Epiphany CC Extension
From CC Wiki

Jaime Frutos Morales developed an extension for the the Epiphany web browser for the Gnome desktop which detects embedded license metadata. If license information is detected the extension adds a (CC) icon to the status bar. Clicking the icon opens the license deed in the browser.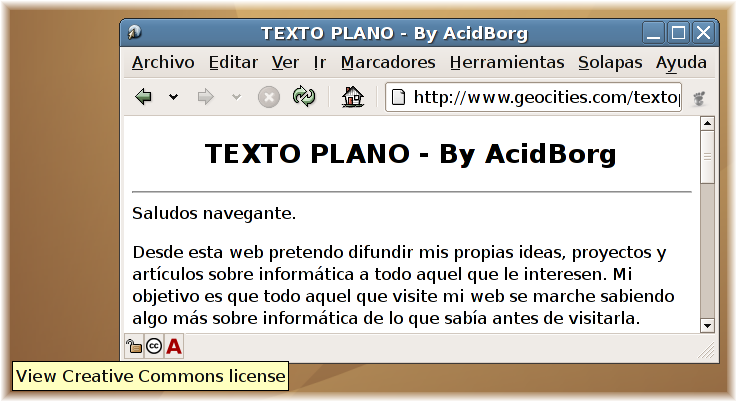 Installation
It has been included in Gnome 2.17 and will be part of the official Gnome 2.18 release. If you want to install it:
Download the extension
Untar the downloaded file into your Epiphany extensions folder:
  $ cd ~/.gnome2/epiphany/extensions
  $ tar zxvf /path/to/cc-license-viewer.tar.gz

Restart Epiphany
Go to the Tools menu, and select Extensions to manage your extensions
Select the checkbox next to Creative Commons license..., and click Close.
Visit a site with embedded metadata, like http://creativecommons.org
References