Please note: An account is needed only to edit the CC Wiki. If you need an account, please email info at creativecommons org and we'll make you an account.
Birthday Party 2009
From CC Wiki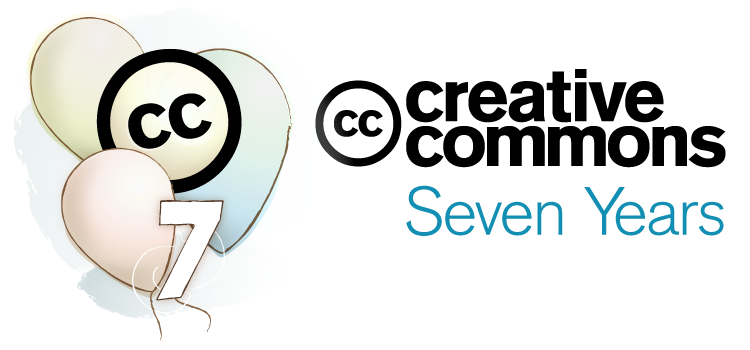 Creative Commons is turning 7, and to celebrate we're inviting the CC Community worldwide to join the party!
Parties
Tag
Please use the general tag "cc@7" and city-specific tag (ex. "cc@7berlin") to mark materials from your party.
Who
Anyone who uses, cares about, or is a fan of Creative Commons, anywhere in the world.
What
CC friends, fans, and supporters across the globe are invited to find creative ways of celebrating the past seven years of CC successes and growth. We want to celebrate Creative Commons using the same ideals of openness, innovation, collaboration, and freedom that are central to CC, so the possibilities are limitless: create a remix or video, bake "CC" cupcakes, host a screening of a CC-licensed film, organize an informal salon or meet-up, plan an event around Public Domain Day on January 1, the list goes on. What CC has accomplished in just seven years is phenomenal and worth celebrating in any form!
Let's mark the week of December 14th (and beyond!) as a celebration of free culture, creativity, and knowledge! Use the tag CC@7 and add any and all photos/videos/blogs/etc. to this Wiki page or email them to development[at]creativecommons.org so we can highlight how people are celebrating CC.
When
Throughout the week of December 14, 2009
Where
Add yours to #Parties.
See Also
Birthday Party 2007 - synchronized global birthday parties. Lots of great planning and party ideas!