San Francisco Salon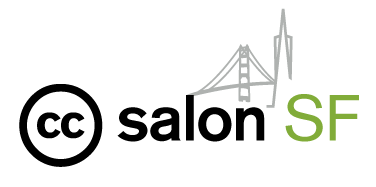 Wednesday, February 11, 2009
Theme
For the first time in a very long time, CC staff members will all come together under the same roof to talk about the exciting and innovative projects they've been working on.
If you don't know how CC works internationally or in the realms of science, education, and culture, or if you've never had the chance to meet the members of our fabulous staff, this salon is not to be missed! Come meet the entire staff of CC, who will be coming from as far as Berlin, Boston, New York, and LA, for an informal, CC-filled evening of presentations, conversations, and mingling.
Presenters
Mike Linksvayer, Vice President
Eric Steuer, Creative Director
Catharina Maracke, Director, Creative Commons International
John Wilbanks, Vice President, Science Commons
Ahrash Bissell, Executive Director, ccLearn
Joi Ito, CEO
Music
Location
Format
7:00-9:00 PM
7pm: Mike Linksvayer will talk briefly about how CC works generally, then introduce the presenters.
7:15: Presentations
8:05: Joi Ito, CEO, will talk about where CC is headed
8:15: Conversations and discussion with CC staff; chance to meet all CC staff
Wednesday, November 19th, 2008
Theme
CC and Citizen Media: Our presenters this month will showcase their innovative projects in citizen journalism and explore how CC helps to facilitate the sharing of information in a journalistic realm.
Presenters
David Cohn, veteran citizen journalist and founder of Spot.us, a Bay Area community-funded journalism start-up, a project of the Center for Media Change and funded by the Knight Foundation.
Cary Bass, Volunteer Coordinator for Wikinews, and Jon Davis, a "Wikinewsie" volunteer. Wikinews is a project of the Wikimedia Foundation.
Music
Location
Shine
1337 Mission St, San Francisco, CA
Google Map/Directions
http://www.shinesf.com/ (21+)
Format
7:00-9:00 PM
Mingling and merriment for the first 1/2 hour or so, followed by presentations and Q&A.
Wednesday, August 13th, 2008
Presenters
Jolene Pinder, an Associate Producer at Arts Engine, Inc. in NYC. Jolene will be screening a short CC-licensed film and talking about the various ways in which Arts Engine uses CC licenses.
Eric Steuer, CC's Creative Director, will be talking about the soon to be launched film maker's toolkit.
Robin Sloan, Product Strategist from Current TV will wrap up the evening.
Music
Location
Shine
1337 Mission St, San Francisco, CA
Google Map/Directions
http://www.shinesf.com/ (21+)
Format
7:00-9:00 PM
Presentations and Q&A.
More Info