Publish/Video
Below are major communities for sharing video under CC licenses. For other communities, see:
Blip.tv
| | |
| --- | --- |
| | Blip.tv is a video-sharing website focused on episodic content that has enabled CC licensing. See the Case Study for more information. |
How to publish on Blip.tv
Blip.tv allows users to select a CC license during the file upload process.
1. Upload your video and click "Go to Step 2". On the step 2 page, you should see this option:

2. From here you can select a CC license or dedicate your video to the public domain. If you select "Creative Commons" and you will see this option: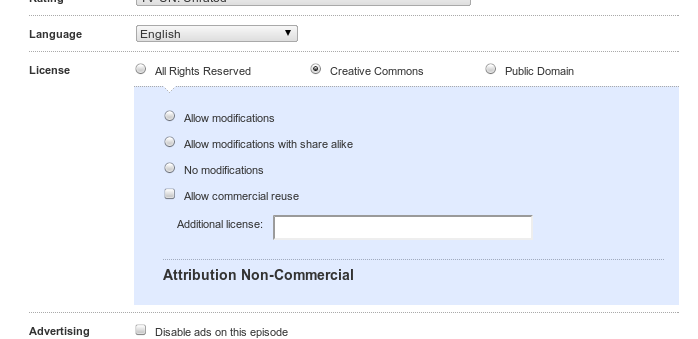 3. From here you can select a license. The license selection will be displayed on the video page. See below for an example.
Vimeo
| | |
| --- | --- |
| | Vimeo is a high quality video-sharing website for creators that has enabled CC licensing. See the Case Study for more information. |
How to publish in Vimeo