Difference between revisions of "Popular Science Concert"
---
Latest revision as of 17:32, 28 September 2006

The latest version of this document is available at http://wiki.creativecommons.org/Popular_Science_Concert
Look for shared pictures, recordings and machinima of the event and share your own (and enter the contest) here.
Creative Commons and PopSci.com present:
Creative Commons Concert in Second Life
Thursday, September 14, 2006 at 5PM (SL/Pacific) at Menorca, in the 3D online digital world of Second Life.
Featuring Jonathan Coulton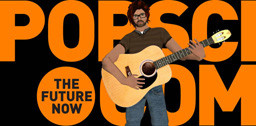 With popular Second Life musicians
Sponsored by PopSci.com
Share this concert! You have the right to record, copy, distribute and play video and audio of this concert which is licensed with the Creative Commons Attribution-NonCommercial-NoDerivs 2.5 License (details here)
Audio streaming server provided by Mad Muse Radio The audio of this concert will be available outside of Second Life on the web, and inside of Second Life at Menorca, several simulcast locations, and for your own land. (Details below.)
Jonathan Coulton is the Contributing Troubadour and podcaster for PopSci.com and the musical director for John Hodgman's Little Gray Book Lectures (currently on hiatus). His songs about vengeful nerds, ennui-afflicted clowns, self-loathing giant squids, and devotees of a certain Swedish prefab furniture store are insanely clever without ever being too clever for their own good. They repeatedly lure you into laughing before suddenly breaking your heart. And the sick part is, you keep coming back. Coulton's is the voice of every spooky elementary school kid who could never quite keep his shirt tucked in or shoes tied; every lovelorn mason and mad scientist; every one of us who has ever sat despairingly on the floor, surrounded by parts of an Ikea endtable, weeping over our allen wrenches.
For the past almost-year he has been recording and publishing a new song every week as a free podcast called Thing a Week. A few of these songs have become full-fledged internet smashes: his folky cover of Sir Mix-a-Lot's "Baby Got Back," a visual ode to Creative Commons called "Flickr," and of course "Code Monkey," the anthem of software designers everywhere. He releases all his music under a Creative Commons license that allows for derivative works, so his fans have created numerous music videos and posted them on various video-sharing sites. The first 12 songs from the Thing a Week project are now available on the CD "Thing a Week One," and the remainder will soon follow - an entire year's worth of songs from a bold experiment in independent musicianship and internet superstardom. His web site is http://jonathancoulton.com
Creative Commons is a not-for-profit organization, founded in 2001, that promotes the creative re-use of intellectual and artistic works—whether owned or in the public domain. Creative Commons licences provide a flexible range of protections and freedoms for authors, artists, and educators that build upon the "all rights reserved" concept of traditional copyright to offer a voluntary "some rights reserved" approach. It is sustained by the generous support of various organizations including the John D. and Catherine T. MacArthur Foundation, Omidyar Network, the Hewlett Foundation, and the Rockefeller Foundation as well as members of the public. For general information, visit http://creativecommons.org
PopSci.com is the online home of Popular Science, delivering "the future every day." From cutting-edge innovations and predictions for what's coming next to hilarious blog posts, videos and podcasts, to eye-popping photos from the tech frontier, it's the Web's best source for geek-chic info-tainment. Check it out at http://www.popsci.com
This month, Creative Commons and PopSci.com are launching a partnership to spread the word about the CC mission through exciting, tech-oriented cultural events. PopSci.com editor Megan Miller says, "We're in the midst of an information revolution, and the editors of PopSci are excited about the possibilities for digitally sharing ideas through open-source software, wikis, and alternatively licensed creative works—that's why we're proud to support Creative Commons."
Menorca is an island within Second Life that has been featured in Rolling Stone Magazine, with unique open air settings and stages for live music events. From classical to rock, folk to pop, Menorca has hosted many of Second Life's finest musicians and events like the City Stages Concert and SL Divas Live. Open 24/7 to chill, explore and listen.
Mad Muse Radio offers affordable internet broadcasting plans for personal or commercial radio stations inside and outside of Second Life, as well as the tools to provide a professional service to your listeners.
Audio Simulcast in Second Life to:
Listen on the web at: http://www.musebroadcast.com:8000/creativecommons.m3u
If just clicking that link doesn't work for you, to listen using iTunes, from the menu choose Advanced / Open Stream and paste in the url. You might have to click "play" to restart if you lose the stream or when we change musicians.
Add the stream to your own SL land: http://www.musebroadcast.com:8000/creativecommons
For more information:
In Second Life
Zenigma Suntzu (Producer) - website zenigma at gmail.com
Slim Warrior (Menorca) - website admin at slimgirlfat.co.uk
Adri Saarinen (PR & Media Contact (in Second Life)) - adri.saarinen at gmail.com
For Creative Commons: Jennifer Yip (SL: Genevieve Junot) - jennifer at creativecommons.org
For PopSci.com: Megan Miller (SL: Megala Marx) megan.miller at time4.com

Blog Posts:
http://nwn.blogs.com/nwn/2006/09/the_second_life.html
http://www.secondlifeinsider.com/2006/09/13/interview-adri-saarinen/
http://www.secondlifeinsider.com/2006/09/07/jonathan-coulton-in-concert/
http://heyjude.wordpress.com/2006/09/05/creative-commons-and-second-life/
http://joi.ito.com/archives/2006/09/13/jonathan_coulton_concert_in_second_life.html
http://freshtakes.typepad.com/sl_communicators/2006/09/popular_science.html
http://www.bradsucks.net/archives/2006/09/12/second-life/
http://metaversemessenger.com/PDF/MM-2006-09-19.pdf (page 3)
http://www.earthmusicnetwork.com/netsy/?p=203
San Antonio Current: Game Theory
Credits:
Avatar makeover: Adri Saarinen
Avatar shaping: Haver Cole, Plastic Surgeon to the Stars
Free CC / PopSci.com logo clothing: kaia Ennui of Nocturnal Threads
Free books (content): Lawrence Lessig, Cory Doctorow
Free books (object): Falk Bergman
Streaming server: Trinity Cole of Mad Muse Radio
Simulcast Locations: Slim Warrior of Menorca, Joseph Montagne of The Big Horn Lodge, Trinity Cole of Akasha Village
Zombie Skins: Ferran Brodsky
Zombie AO (Dances): Keiki Lemieux of Huddles
Zombie clothing: kaia Ennui of Nocturnal Threads
Giant Squid: Vudu Suavage of Gods & Monsters
Half-Pony Half-Monkey Monster by: Zenigma Suntzu, using parts left mod by (and with apologies to) Kristivon Kolache and Taylor Thompson
I <3 Brains!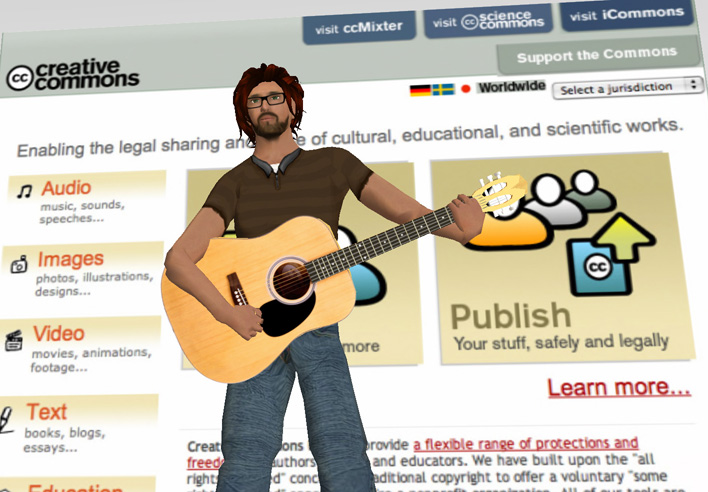 ---
Second Life(r) and Linden Lab(r) are trademarks or registered trademarks of Linden Research, Inc. All rights reserved. No infringement is intended.