PdfLicenseManager
The contents of this article have been identified as candidates for conversion to Semantic Markup. You can help Creative Commons by splitting the article and constructing ask queries. See the Semantic MediaWiki page for more information.

Enrico Masala originally wrote an easy-to-use Java program to embed Creative Commons metadata into PDF files using XMP. This program is Free Software and does not require Adobe Acrobat Professional; furthermore, it can be modified fairly easily to run "headlessly" and insert the license XMP into PDF files automatically.
Usage instructions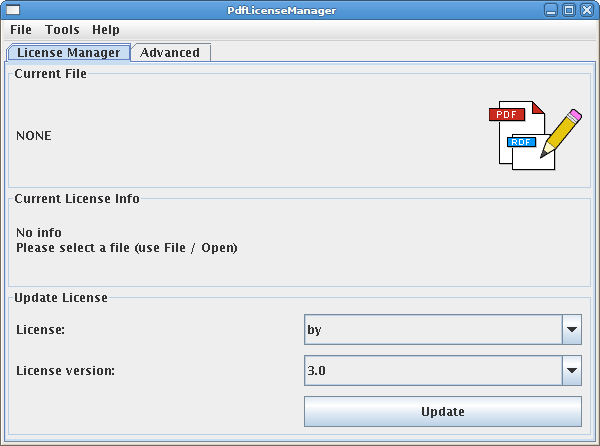 When you run the application by launching its JAR, you are greeted with this window. Choosing "File->Open" will let you select a PDF, and the drop-down Clicking on "Advanced" will show you the XMP embedded in the PDF. Choosing a license from the "Update License" widgets will, obviously, let you choose a license.
The program also has a command line interface that can be accessed by running the JAR with command line arguments.
Downloading a binary JAR
Getting and modifying the source code
You can check it out of our Subversion:
The main development happens in the "trunk" directory. You can also download the source and precompiled .class files in a ZIP file (without a bundled copy of iText; see the README for information on that).
Building a binary JAR
Just run "make pdflicensemanager.jar" in the trunk/ directory (or wherever else you have a copy of the source).
Version history
2.3: April 8, 2008

Updated by Asheesh Laroia to refer to new Creative Commons namespace
Updated by Asheesh Laroia to rever to version 3.0 of the CC license suite

2.2: Feb 7, 2006

Bug fix in updateLicense. It tried to append new nodes to the last "rdf:Description" instead of "rdf:RDF". Thanks to Mr. dOGMaTiC and Andres Gonzalez.

2.1 Dec 4, 2006

Modified some info messages.

2.0 Jul 12, 2006

Added a graphical user interface. Command line interface is still present.

1.0 Jul 5, 2006

First release. Command line interface.
Historical notes