Marking
Best Practices for Marking Content with CC Licensing.
Once you have selected a license for your content, it is important to mark your content clearly so that others know what permissions they have. Ideally, your mark should include the following:
The normal CC license button icons: http://creativecommons.org/presskit
The full URI to the license
A copyright statement with the date and creators(s).

May be followed by "Some Rights Reserved"
Examples:

© 2007, Name.
© 2007, Name. Some Rights Reserved.

Optional : Color coded to match the color of the human deed (colors).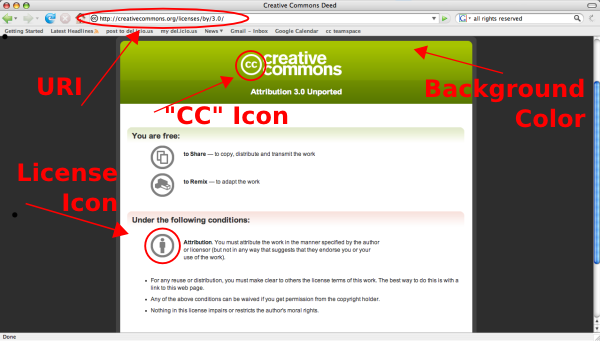 See Also: Tagging
Marking Specific Media
Due to the constraints of various media, it is not always possible for your mark to include all of the above. For details on how to mark specific media, please select your medium:
Download Markers
For images & documents:
For audio:
For video: