Case Studies/Flickr
Flickr is a popular photo- and video-sharing site that has enabled Creative Commons licenses.
Making my photos available on flickr using a CC-license has made wonderful things happen. My photos have been used in classrooms, in books and on blogs. They have been used to illustrate articles in Wikipedia or help charities' fund-raising campaigns. — Lars Plougmann, http://creativecommons.org/weblog/entry/8157, http://www.flickr.com/people/criminalintent/
Overview
Launched in 2004 and later acquired by Yahoo, Flickr is an image and video hosting website that allows users to post, share, and comment on each other's content. These photos are organized by user-submitted tags, which generate emergent folksonomies of thematically linked photos. Users can also create photo pools, which allow others to submit images into publicly available repositories. Notably, the site also allows for Creative Commons licensing support in its service, allowing creators to share certain rights for usage of their photos with others. As of late 2009, the site hosts over four billion images.
According to a Flickr staff member in mid-2009, the site had acquired 32+ million registered users. Data on how this user base is distributed worldwide remains unclear. However, Flickr has been notably used by activists to compile and publicize events. Clay Shirky's Here Comes Everybody details the role played by Flickr in circulating photos of political protests in Belarus (p. 167). Similarly, Flickr users organized onsite protests against Microsoft's attempted buyout of Yahoo in 2008.
License Usage
Users can choose to release their work under any of the available Creative Commons licenses. As of October 2011, Flickr hosted over 200 million CC licensed images. In March 2010, Creative Commons summarized the growth of CC licensed photos on Flickr over the years.

Flickr has also published its shapefile dataset online, waiving all copyright restrictions via the CC0 public domain dedication. A shapefile is a file containing shapes mathematically generated by thousands of Flickr geotagged photos of particular neighborhoods,Thiet Ke Web countries, and continents. Shapefile data has been used to reverse-engineer maps with user generated longitude and latitude coordinates that are then demarcated by Where-On-Earth IDs, "unique numeric identifiers that correspond to the hierarchy of places where a photo was taken: the neighbourhood, the town, the county, and so on up to the continent."
Motivations
Jon Phillips, who worked closely with Flickr on CC integration, commented that open licensing was useful in "providing an interface with the rest of the world and the blogosphere without having to ask permission. It provided, in short, a clear path to usage."

When Flickr first integrated CC licensing, they wrote that "As individuals and as a company we wholeheartedly support and endorse the Creative Commons' mission and hope to help contribute to the preservation and enhancement of creative freedom and personal expression."

On releasing its shapefile dataset via the CC0 public domain dedication, Flickr gives the following reasons:
We want people (developers, researchers and anyone else who wants to play) to find new and interesting ways to use the shapefiles and we recognize that, in many cases, this means having access to the entire dataset.
We want people to feel both comfortable and confident using this data in their projects and so we opted for a public domain license so no one would have to spend their time wondering about the issue of licensing. We also think the work that the Creative Commons crew is doing is valuable and important and so we chose to release the shapefiles under the CC0 public domain dedication as a show of support.
We want people to create their own shapefiles and to share them so that other people (including us!) can find interesting ways to use them. We're pretty sure there's something to this "shapefile stuff" even if we can't always put our finger on it so if publishing the dataset will encourage others to do the same then we're happy to do so.
Technical Details
Flickr has implemented 1) a license chooser, 2) the license mark on pages for CC licensed objects, 3) CC REL metadata, and 4) searching for CC licensed videos.
License chooser
There are many ways to CC license your content in Flickr. The three main ways are 1) setting a default license for your account to apply the license to all new uploads, 2) batch-licensing all your previous uploads, or 3) selectively licensing some of your photos.
Setting a default license
To set a default CC license for your content, follow these directions:
1. Go to Your account and click on the Privacy and Permissions tab.

2. Scroll down to the Defaults for new uploads section and look for the following line (you may not already have a default license, but the example below does):

3. Click Edit and you will be taken to a license chooser to select a new default license for new uploads.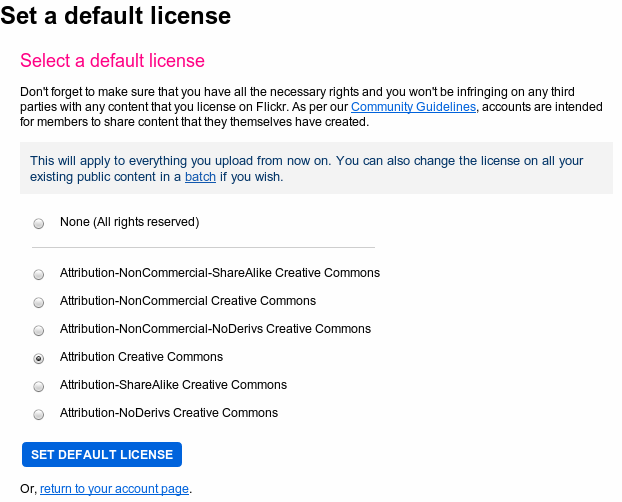 Batch licensing
After you've set a default license, you might have photos that were uploaded before you set a default license. You can change the licensing status of those images in multiple ways.
On the same page you used to set a default license, there is a link to a page where you also have the option to Batch edit the license for all of your previous uploads. So here you can, for example, CC license all of your previously uploaded photos before you had set a default license.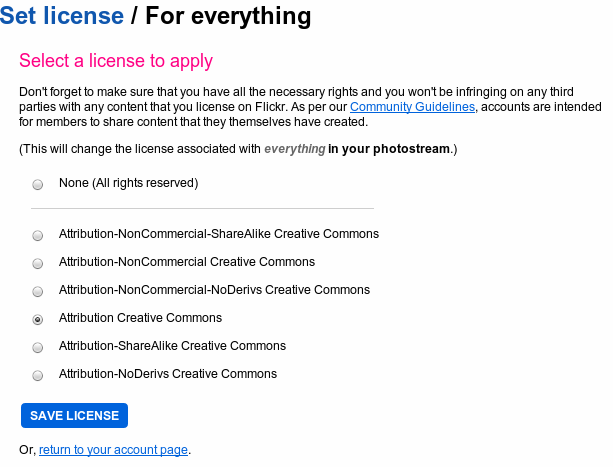 Otherwise, you can select individual sets of photos to change the licensing status of through the Organize view. On this page, you can drag photos into the screen, select Permissions and then select Change licensing.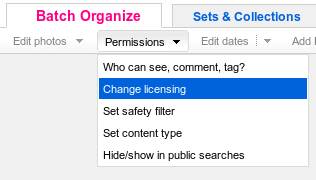 You should be presented with a license chooser: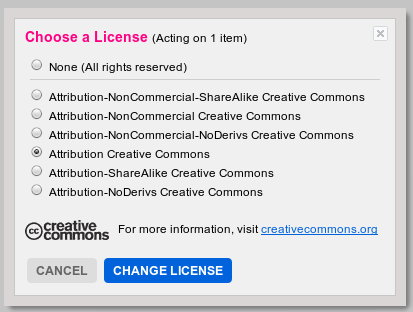 You can also batch edit the licensing status of sets or collections. To do this, open the set or collection in the Organize view and in the Batch edit menu, select Change licensing: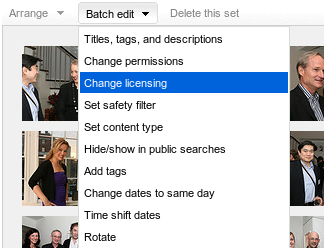 License mark
CC license marks appear on pages for specific images.
For example, see this image.
The license mark on that page appears in the right hand column:

That small image and text links to the specific license deed that the photo is under.
The CC mark also appears at the bottom of the menu above the image to Share this: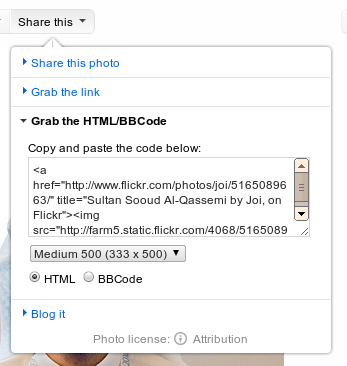 Metadata
Flickr has implemented a subset of the CC REL specification by specifying the 'license' and 'cc:license'. Note that both names are contained in a single rel= attribute, which is perfectly valid, although the two terms are equivalent and therefore it isn't necessary to use both. See this wiki page for more information.
For an example, see the source code at the top of this image's page for the namespace definitions:
<html xmlns:dc="http://purl.org/dc/terms/" xmlns:foaf="http://xmlns.com/foaf/0.1/" xmlns:cc="http://creativecommons.org/ns#">
And then below where the CC BY license is linked to:
<a href="http://creativecommons.org/licenses/by/2.0/deed.en" rel="license cc:license">Some rights reserved</a>
CC search
You can search for CC licensed content on Flickr by license.
To explore photos by CC license, visit the Creative Commons page and select your desired license.
To search for Creative Commons licensed photos, go to the advanced search page and check the box at the bottom to Only search within Creative Commons-licensed content. Then select the desired license permissions.

Media
Creative Commons licensed photos
Some collections from Creative Commmons affiliates give a good sense of the type of material collected: