CC Publisher
What is it?
ccPublisher is a tool that does two things: it will help you tag your audio and video files with information about your license and it allows you to upload Creative Commons-licensed audio and video works to the Internet Archive for free hosting. You also have the option of publishing the licensed and tagged audio works on your own site.
[http://www.libertyboy.tumbler.com
Living in Ireland. Returned after spending many years in California.
Had to get back to a life of calm and ease. Looking to pick up the pieces that I left some long long time ago in the eighties. The country has now changed from what I used to know off. People, the way of life have also change too.
More cars, trucks, more transportation, more commercialism. Bigger commercial buildings,It also has a higher cost of lving.
Everybody seems to be in a hurry, more than the did back when I grew up. Things were a lot slower then.
Well now we have peace with the Red Hand of our Nothern brothers and sisters of Ulster, hunderds of years of fighting and the lost of lives across this small nation of ours.
Finally, we woke up, and so did the Brit's !
Ti's nice to be back, on this wee Rock I call Home !
What Happened, One May Ask ?
( THE CELTIC TIGER )
--DocNoc 18:27, 19 August 2007 (EDT)Ed Noctor.
--DocNoc 18:27, 19 August 2007 (EDT)Ed
Using ccPublisher
Step one: Dragging your songs/videos into ccPublisher
[[Image:ccp2_screenshot_2.png]
Start the ccPublisher application and hit Next on the introductory screen. The process starts by adding your files to be tagged/uploaded. You can use the browse function to find the files, or simply drag and drop as many files that you would like to license (all with the same license) and upload (all into the same collection at Internet Archive).
Step two: Adding information about your works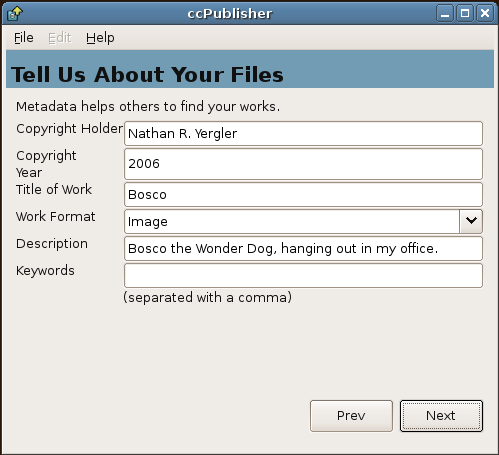 The next screen will ask for information about your work, which will help others find it at the Internet Archive.
Step three: Choose your license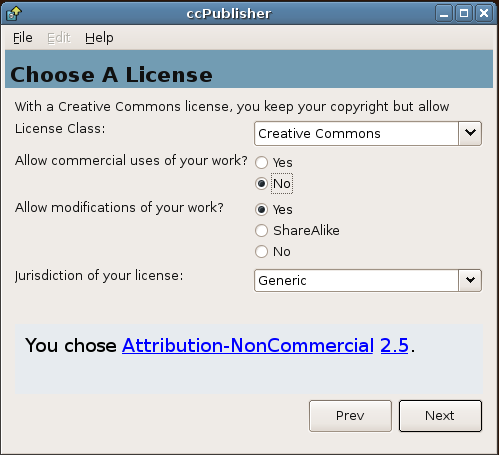 ccPublisher lets you choose one of several license types and the options for each.
Step four: Specify format information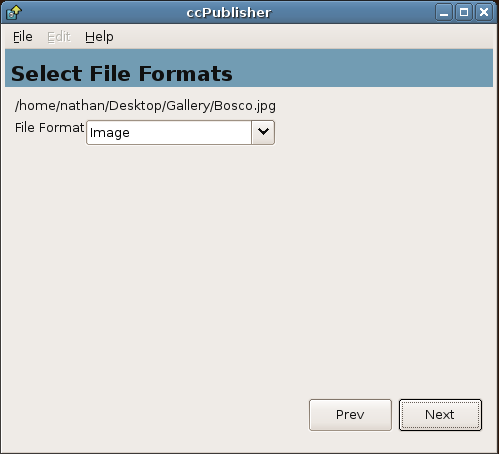 Format information helps the Internet Archive
Step five: Select your destination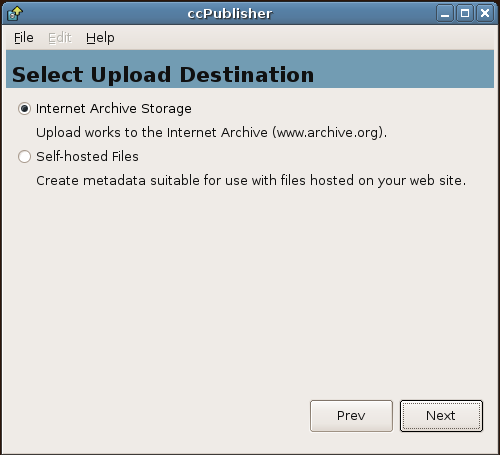 ccPublisher lets you upload your work to the Internet Archive or generate some HTML for use when hosting it yourself. Select your destination and click Next. For details on self-hosting, see CcPublisher Self-Hosting.
Step six: Logging into the Internet Archive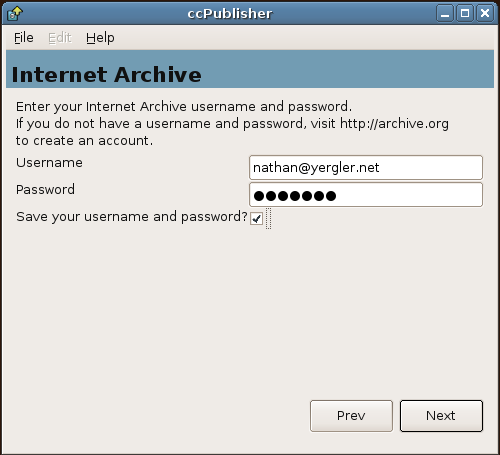 To upload your works to the Internet Archive, you'll need an account there to associate your files with. If you don't have an account there, you can go to http://archive.org and create one.
Step seven: Start your upload to the Archive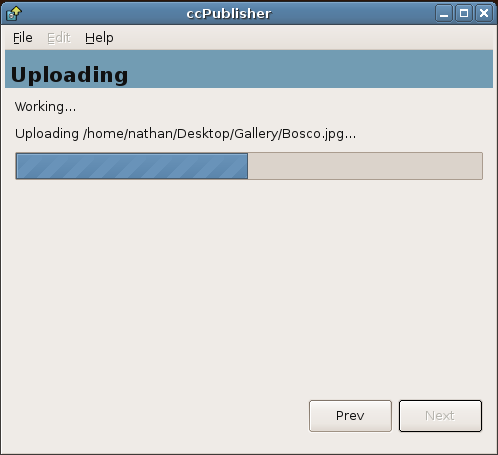 The final step is to upload your works to the Internet Archive. Depending on your connection and the size of files you are uploading, this step can take anywhere from a few seconds to several hours.
Step eight: All done!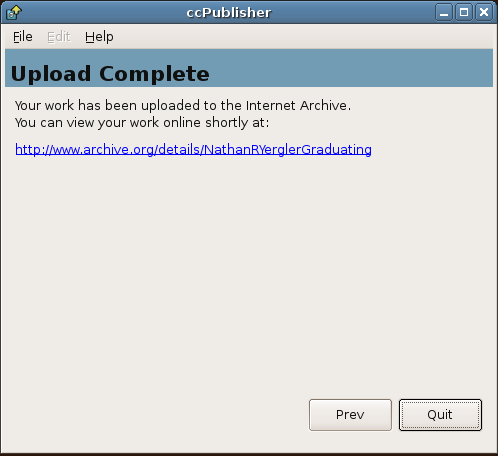 When your upload is complete, click Next and the Publisher application will furnish you with a URL that should be live within 24 hours at the Archive. If you'd like to use a file-sharing application or add the files to your own website, the file can be found in its original location on your computer, which you can upload to a site or move into a shared downloads folder for P2P (for more info, see our tutorial for sharing your CC music via Morpheus).
Support
If you have problems with ccPublisher, or just questions or suggestions, you can do one of two things:
email software@creativecommons.org (good)
file a bug or feature request in the ccPublisher Tracker (better)
Developers
ccPublisher developer information is located on the ccPublisher Developer page. Discussion about feature requests and development takes place on the cc-devel mailing list.