Если вы ищете вдохновение, бизнес-модели или прецеденты, CC Case Studies - это идеальное место для начала.
Помогите нам расширить этот ресурс поделившись вашим произведением или рассказав вашу историю. Исключительные и хорошо написанные case studies будут включены в будущие публикации и исследования.
Исследуйте
Brothers Whim
A children's storybook workshop.
DeviantART
DeviantART is an online community dedicated to showcasing art as prints, videos and literature.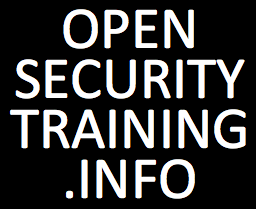 OpenSecurityTraining
In the spirit of OpenCourseWare and the Khan Academy, OpenSecurityTraining.info is dedicated to sharing training material for computer security classes, on any topic, that are at least one day long.
See more high quality Case Studies...
Получи книгу!
Посетите http://creativecommons.org.au/casestudiesvol1 для подробной информации, включая исходные файлы, доступные для переработки.
Помогите проекту!
Есть идея для case study, но не можете её воплотить? Добавьте ваш запрос на Talk:Case_Studies. Вы можете также внести свой вклад расширяя незаконченные Case Studies.
Проверьте нашу дорожную карту или свяжитесь с User talk:Michelle Thorne, чтобы взять лопату и помочь нам сделать это лучше.
This page was last modified on 4 November 2011, at 20:18.